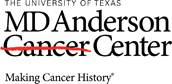 Job Information
MD Anderson Cancer Center

Advanced Practice Provider (APRN or PA) - GI Medical Oncology - The Woodlands

in

Woodlands

,

Texas
MD Anderson Medical Oncology services in the Houston Area Locations provide high quality cancer care to patients in the communities where they live and work. Specially trained board-certified oncologists and multidisciplinary professionals provide a wide range of clinical and psychosocial services. Our highly specialized, integrated, multi-team approach to cancer care includes supportive services such as on-site laboratory, rehabilitation therapy, and pain management, access to clinical trials, clinical nutrition, genetic counseling, and oncology nurse navigator.
Ideal candidate for this position will be an Advanced Practice Provider (APRN or PA) with 2 years of experience in Medical Oncology. In addition, experience in GI.
Salary Range: min - $93,600 mid - $117,000 max - $140,400
The primary purpose of the Advanced Practice Provider (APRN or PA) is to promote, provide, and maintain patient care under physician supervision in the surgical oncology specialties of the M. D. Anderson Houston Area Locations. Affect patient care and outcomes throughout the disease process across the UT M.D. Anderson Cancer Center according to the policies and procedures provided by the UT MDACC and the State of Texas as they pertain to APPs.
CORE VALUES
Caring: By our words and actions we demonstrate caring toward everyone.
• We are sensitive to the concerns of our patients, their loved ones and our colleagues.
• We are respectful and courteous to each other and practice cultural humility.
• We promote and reward teamwork and inclusion.
Integrity: We work together with professionalism to merit the trust of our colleagues and those we serve in all that we do.
• We hold ourselves, and each other, accountable for our work - decisions and data - and for practicing our values and ethics.
• We advocate for diversity and equity for our workforce, for those we serve and for our community.
• We communicate frequently, honestly, openly and responsibly.
Discovery: We embrace creativity and seek new knowledge from diverse perspectives.
• We encourage continuous learning, seeking out information and new ideas.
• We team with each other to identify and resolve problems.
• We seek personal growth and enable others to do so.
Safety: We provide a safe environment - physically and psychologically - for our patients, for our colleagues and for our community.
• We create a sense of security and empowerment and are committed to keeping one another free from harm.
• We embrace a framework and best practices for the highest quality of care and service.
• We inspire trust by modeling excellence in our work and acceptance of each person's contributions.
Stewardship: We protect and preserve our institutional reputation and the precious resources - people, time, financial and environmental - entrusted to us.
• We prioritize the health and well-being of each other.
• We act responsibly to safeguard the institution's finances.
• We ensure the proper care and use of time, data, materials, equipment and property afforded to us.
JOB SPECIFIC COMPETENCIES
Key Functions/Responsibilities
• Conduct comprehensive assessment of patients based on age and diagnosis, including psychological status.
• Direct care of patients with benign and a wide range of oncologic diseases to include New patients, Consultations, Follow-Up during and after cancer therapies, autonomous survivorship clinic
• Proficient use of Electronic Health Record in the delivery of care. Complete documentation per MD Anderson policy and guidelines.
• Perform and document history and physicals, order and review diagnostic studies and therapeutic procedures, prescribe medications, interaction and direct communication with referring physicians, collaboration with and direct reporting of patient information to the medical staff
• Coordinate care with other disciplines; build strong collaborative relationships across the organization and the local medical community, as many patients require long term and multi-disciplinary care.
Direct care and management in the outpatient setting to include: initiation of evaluation, documentation of clinic visits, patient and family education, obtaining informed consent for treatment, documentation of telephone conversations, identification and treatment of treatment toxicities, management of symptoms, counseling and support, collaboration with and referrals to other health care providers, and provision of education to nursing staff, students, and the community
• Serve as a medical expert for the Business center and Nursing staff in the intake process of new and transfer patients to ascertain safety, appropriateness, and treatment modality
• Treatment planning with Physicians, active participation in tumor board review and discussion of cases
• Engage in peer-to-peer reviews with insurance
• Perform autonomously in an independent Advanced Practice Provider clinic
• Contribute to the development, modification, and interpretation of oncology guidelines, policies, procedures, including quality assurance activities
• Maintain working knowledge of HAL research trials for medical oncology. Participate in clinical research as appropriate
• Work collaboratively with APP colleagues in the provision of care including covering colleagues as needed
• Attend conferences and continuing education/staff development programs to maintain knowledge of current literature and guidelines for care
• Participate in safety and process improvement initiatives throughout the Houston Area Locations
• Participate in institutional and center trainings and meetings as required
• Perform credentialed procedures
• Participate in coverage of center ATC as needed
• Prep for and follow-up on clinical visits
• Participate in Treatment and Supportive Plans, providing review and signatures in a timely manner to facilitate timely patient care
COMPETENCIES
Medical Knowledge - Employee demonstrates medical knowledge as defined by position description.
Patient Care - Employee demonstrates population-based competencies (age-specific, diversity) that cross the continuum of care; Employee functions within their professional scope.
Practice-Based Learning and Improvement - Employee participates in on-going learning and demonstrates application of it in his/her role.
Professionalism - Employee demonstrates commitment to collaborative professional relationships with physicians and all members of the heath care team.
Systems-Based Practice - Employee demonstrates his/her impact on the system of care.
With Inclusion, you understand that your ideas and contributions are valued. You promote the same for others. You address your own biases while promoting diversity and equity. (Competencies: Cultural Humility, Cultural Awareness, Cultural Intelligence)
With Drive, you see that you can serve as a leader whether you have a formal leadership role or not. You tackle problems, move past setbacks and hardships, and don't lose sight of your goals. (Competencies: Self-Confidence,
Analytical Thinking, Innovative Thinking, Technical Expertise)
You demonstrate Professionalism by setting the example for others and consistently modeling MD Anderson's values and service standards. You communicate effectively in a variety of ways. (Competencies: Inspire Trust, Oral Communication, Written Communication)
Through Emotional Intelligence, you maintain awareness of your own emotions and the emotions of those around you. Use nonverbal cues and feelings to engage others in an inclusive and responsive way. (Competencies: Active Listening, Teaming, Self-Reflection)
Having Coachability means you are engaged in relentless learning. You constantly ask questions and stay curious. You understand that the organization constantly evolves, and you should as well. (Competencies: Develop Oneself, Adaptability).
EDUCATION
PA - Required: Graduate of a Physician Assistant training program approved by the Council of Medical Education of the American Medical Association.
APRN - Required Master's Degree in Nursing or Doctor of Nursing Practice. May be waived for applicants who obtained recognition as an Advanced Practice Registered Nurse from the Texas State Board of Nursing prior to 1/1/2003. Graduate education and related Texas Board of Nursing authorization must be consistent with clinical practice area and patient population
EXPERIENCE :
Required: None
Preferred: Advanced Practice Provider (APRN or PA) with 2 year of experience in Medical Oncology. In addition, one years of GI experience.
LICENSURE/CERTIFICATION :
PA - Required: All of the following:
PA certification by the National Commission of Certification of Physician Assistants. Licensed by the Texas State Board of Physician Assistant Examiners.
Must meet the American Heart Association Basic Life Support (BLS), ACLS (Advanced Cardiac Life Support) or PALS (Pediatric Advanced Life Support) if working in one of following department: Pediatrics - Patient Care (113100).
APRN - Required: All of the following: Written authorization from the Texas Board of Nursing to function as an Advanced Practice Registered Nurse. Basic Life Support (BLS) or Cardiopulmonary Resuscitation (CPR) certification. Pediatric Advanced Life Support (PALS) If working in the following departments: Pediatric - Patient Care (113100).
MAY BE REQUIRED:
Eligible to be granted limited prescriptive authority by the State of Texas. Authorization for limited prescriptive authority by the Texas Board of Nursing.
It is the policy of The University of Texas MD Anderson Cancer Center to provide equal employment opportunity without regard to race, color, religion, age, national origin, sex, gender, sexual orientation, gender identity/expression, disability, protected veteran status, genetic information, or any other basis protected by institutional policy or by federal, state or local laws unless such distinction is required by law. http://www.mdanderson.org/about-us/legal-and-policy/legal-statements/eeo-affirmative-action.html
Additional Information
Requisition ID: 143116

Employment Status: Full-Time

Employee Status: Regular

FLSA: exempt and not eligible for overtime pay

Work Week: Days

Fund Type: Hard

Pivotal Position: No

Minimum Salary: US Dollar (USD) 93,600

Midpoint Salary: US Dollar (USD) 117,000

Maximum Salary : US Dollar (USD) 140,400

Science Jobs: No