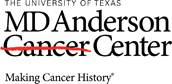 MD Anderson Cancer Center

Institute Senior Research Scientist - Translational In-Vivo Biology

in

Houston

,

Texas
Within The University of Texas MD Anderson Cancer Center lies a powerful engine driving the future of new targeted, immune- and cell-based therapies: the Therapeutics Discovery Division. Therapeutics Discovery eliminates the bottlenecks that hamper traditional drug discovery, with a multidisciplinary team of dedicated researchers, doctors, drug developers and scientific experts working together to develop small-molecule drugs, biologics and cellular therapies. Our unique structure and collaborative approach allow the team to work with agility, bringing novel medicines from concept to clinic quickly and efficiently – all under the same roof.
The Therapeutics Discovery Division is built around four platforms: The Institute for Applied Cancer Science (IACS), ORBIT (Oncology Research for Biologics and Immunotherapy Translation), TRACTION (Translational Research to Advance Therapeutics and Innovation in Oncology) and the Neurodegeneration Consortium.
TRACTION is the translational biology team within the Therapeutics Discovery Division. We employ disruptive technologies, innovative biomarker approaches, cutting-edge pre-clinical modeling and unparalleled access to patient data to accelerate drug development and inform innovative clinical trials. Through integration with basic and clinical research faculty across MD Anderson Cancer Center, we leverage a team science approach with unmatched focus on patient-centric research. In partnership with the drug discovery engines of Therapeutics Discovery, TRACTION scientists execute ground-breaking translational science in support of our mission to advance our portfolio of novel therapeutic concepts into transformative treatments.
As part of the TRACTION team, the primary responsibility of the Institute Senior Research Scientist - Translational In-Vivo Biology is to integrate with a team of innovative and translational biology scientists focused on discovering and positioning clinically, novel anti-cancer compounds for the treatment of targeted patient populations. Responsibilities include collaborating with clinically-oriented physician-scientists, translational and in vivo biologists to develop, characterize and utilize patient-derived tumor models and genetically engineered mouse models for preclinical mechanistic characterization and evaluation of new drug candidates and combinations.
These efforts will allow us to advance novel therapeutics currently under development by our Therapeutics Discovery teams and partners.
By joining the Therapeutics Discovery Division, you have the opportunity to use your talents to make a direct impact on the lives of our patients. We are seeking a highly motivated and collaborative individual to become a part of our team. Ideal candidates will have a PhD in biology or related field, knowledge of oncology cancer models, and experience utilizing oncology models to position therapeutics for clinical development through the discovery and validation of biomarkers that enable patient stratification.
Salary range: Min $112,000 - Mid $140,000 - Max $168,000
JOB SPECIFIC COMPETENCIES
•Lead efforts to identify, develop and procure models to support drug development and translational activities.
•Lead effort to characterize and manage patient drive xenograft (PDX) model bank and database within CCCT for oncology drug discovery projects, Moon Shots collaborations and partnerships.
•Lead efforts to procure and utilize Genetically Engineered Mouse (GEM) and allograft models in support of translational biology efforts
•Oversee and manage preclinical trials utilizing PDX and GEM model collection
•Contribute to the implementation and utilization of ex vivo culture systems to assess novel therapeutics and combinations to inform on responder hypotheses and biomarkers
•Utilize and contribute to the management of LIMS Quick Base systems to collect and archive data
•Effectively design and execute in vivo studies to answer key biological questions in support of project teams, including target validation, establishing PK/PD/efficacy relationships for human dose predictions, and mechanism based combinations in support of clinical hypotheses.
•Contribute to the development and validation of biomarkers (PD and predictive) for translation to the clinic.
•Perform animal surgeries for model establishment, specimen collection and characterization.
•Utilize non-invasive imaging.
•Work collaboratively with colleagues from other disciplines to accelerate compound development.
•Manage in vivo work conducted externally at CROs and internally as part of corporate alliances.
•Provide mentorship, professional development, guidance and leadership to a team of dedicated associate scientists.
Education
Required: Master's degree in one of the natural sciences.
Preferred: PhD in Pharmacology or related discipline.
Experience
Required: Eleven years of relevant research laboratory experience. With preferred degree, five years of required experience.
Preferred: Minimum of 4 years industry experience (at least 7 years preferred)
•Strong working knowledge of oncology disease processes and models.
•Experience working with mouse models of cancer to deliver in vivo pharmacology data.
•Experience in using various platforms to characterize and evaluate in vivo target and pathway modulation in support of drug discovery, including molecular profiling, histology/IHC, non-invasive imaging.
•Experience dosing animals using oral gavage, IP or IV dosing.
•Demonstrated ability for creative thinking and problem solving.
•Demonstrated ability to work in a multi-disciplinary team.
•Excellent leadership, communication and organizational skills.
•Experience in managing of a team of associate scientists is required.
It is the policy of The University of Texas MD Anderson Cancer Center to provide equal employment opportunity without regard to race, color, religion, age, national origin, sex, gender, sexual orientation, gender identity/expression, disability, protected veteran status, genetic information, or any other basis protected by institutional policy or by federal, state or local laws unless such distinction is required by law. http://www.mdanderson.org/about-us/legal-and-policy/legal-statements/eeo-affirmative-action.html
SONJ
Additional Information
Employee Status: Regular

Minimum Salary: US Dollar (USD) 112,000

Midpoint Salary: US Dollar (USD) 140,000

Maximum Salary : US Dollar (USD) 168,000