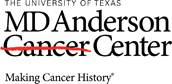 Job Information
MD Anderson Cancer Center

Institute Research Scientist - TRACTION

in

Houston

,

Texas
Within The University of Texas MD Anderson Cancer Center lies a powerful engine driving the future of new targeted, immune- and cell-based therapies: the Therapeutics Discovery Division. Therapeutics Discovery eliminates the bottlenecks that hamper traditional drug discovery, with a multidisciplinary team of dedicated researchers, doctors, drug developers and scientific experts working together to develop small-molecule drugs, biologics and cellular therapies. Our unique structure and collaborative approach allow the team to work with agility, bringing novel medicines from concept to clinic quickly and efficiently – all under the same roof.
The Therapeutics Discovery Division is built around four platforms: The Institute for Applied Cancer Science (IACS), ORBIT (Oncology Research for Biologics and Immunotherapy Translation), TRACTION (Translational Research to Advance Therapeutics and Innovation in Oncology) and the Neurodegeneration Consortium.
TRACTION is the translational biology team within the Therapeutics Discovery Division. We employ disruptive technologies, innovative biomarker approaches, cutting-edge pre-clinical modeling, and unparalleled access to patient data to accelerate drug development and inform on innovative clinical trials. Through integration with basic and clinical research faculty across MD Anderson Cancer Center, we leverage a team science approach with unmatched focus on patient-centric research. In partnership with the drug discovery engines of Therapeutics Discovery, TRACTION scientists execute ground-breaking translational science in support of our mission to advance our portfolio of novel therapeutic concepts into transformative treatments.
As part of the TRACTION team, the Research Scientist leads cross-functional research efforts utilizing state-of-the-art preclinical models, platforms, and assays to perform in vitro and in vivo experiments in support of advancing novel therapeutics currently under development by our Therapeutics Discovery teams and partners. The Research Scientist will apply deep biological insights to identify the patients most likely to benefit from clinic ready compounds, inform on rational combination strategies, and identify mechanism-based biomarkers that can be used to inform on clinical trial design and provide proof of biology in the clinic.
Key Functions:
1.Through leadership and collaborative experimental activities, advance complex strategies and enable progression of innovative drug candidates into the clinic.
2.Lead collaborative efforts with research, biomarker, functional genomics, and computational biology teams to generate and utilize internal biological and oncogenomic data sets to test clinically relevant translational biology hypotheses.
3.Design, execute, and interpret in vitro, ex vivo, and in vivo experiments to develop patient stratification strategies, and identify mechanisms of tumorigenesis and drug resistance to inform on combination strategies and biomarkers that can be used to establish proof of biology for compounds entering the clinic or in early clinical development.
4.Develop extensive knowledge and experience in key areas of tumor biology including, but not limited to oncogenic signaling, tumor microenvironment, tumor immunology, metabolism, epigenetic deregulation, and apoptosis.
5.Identify and implement new technologies to find solutions related to program study needs.
6.Interpret, present, and report research findings at internal meetings and external scientific conferences.
7.Have fun while being impactful!
Education
Required: Bachelor's degree in biology, biochemistry, molecular biology, cell biology, enzymology, pharmacology, chemistry or related field.
Preferred: PhD in a natural science.
Experience
Required: Six years experience of relevant research experience in laboratory With Master's degree, six years of required experience. With a PhD in a natural science or Medical degree, two years of required experience.
Preferred: At least two years of relevant experience in oncology research in biotech or pharmaceutical environment.
Experience
1.Evidence of utilization of cancer genetics to inform on clinical positioning of drug candidates.
2.Experience utilizing genetic or pharmacological tools to perform biology studies is a plus.
3.Experience utilizing various in vitro, in vivo and ex vivo methods to characterize and evaluate target and pathway biology as translation biology efforts.
4.Experience designing experiments and interpreting their results is expected.
5.Extensive knowledge and experience in key areas of tumor biology including, but not limited to oncogenic signaling, tumor microenvironment, tumor immunology, metabolism, epigenetic deregulation and anti-apoptosis as evidenced by publication in peer-reviewed journals.
6.Strong data analysis skills, ability to interpret results and design follow-up experiments, troubleshoot issues with assay performance, and effectively present results and conclusions to co-workers, collaborators, and senior leadership.
7.Evidence of independent thinking and leadership skills are vital. Ability to work well under pressure and drive projects that impact critical timelines is essential.
8.Flexibility to accommodate to rapidly changing priorities and deadlines is required
9.The position requires an accomplished, highly self-motivated individual with outstanding organizational skills, and the ability to effectively communicate and work within a team environment across multiple functional units.
It is the policy of The University of Texas MD Anderson Cancer Center to provide equal employment opportunity without regard to race, color, religion, age, national origin, sex, gender, sexual orientation, gender identity/expression, disability, protected veteran status, genetic information, or any other basis protected by institutional policy or by federal, state or local laws unless such distinction is required by law. http://www.mdanderson.org/about-us/legal-and-policy/legal-statements/eeo-affirmative-action.html
Additional Information
Requisition ID: 134794

Employment Status: Part-Time Not Benefits Eligible

Employee Status: Regular

FLSA: exempt and not eligible for overtime pay

Work Week: Days

Fund Type: Hard

Pivotal Position: No

Minimum Salary: US Dollar (USD) 98,000

Midpoint Salary: US Dollar (USD) 122,500

Maximum Salary : US Dollar (USD) 147,000