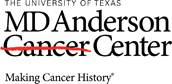 MD Anderson Cancer Center

Clinical Nurse - Inpatient - Hematology Units

in

Houston

,

Texas
The University of Texas MD Anderson Cancer Center is ranked the nation's top hospital for cancer care by U.S. News & World Report's "Best Hospitals." MD Anderson's mission is to eliminate cancer in Texas, the nation and the world through exceptional programs that integrate patient care, research and prevention.
Oncology nursing excellence is a central pillar in MD Anderson's worldwide reputation for cancer care. As a Magnet Recognized hospital, we provide our patients with excellent oncology nursing care.
The ideal candidate will have a minimum of 18 months RN experience in an acute care setting. Strong Medical Surgical, Intermediate Care, or Critical Care experience is a plus. Prior Chemotherapy, Oncology, or BMT experience is preferred, but not required.
Our Hematology departments are hiring for multiple areas including:
G11E Leukemia - one of three units dedicated to the care of the acute/chronic and remission Leukemia patient. Nurses are responsible for organizing the care of the patient including the administration of chemotherapy, blood products, electrolyte replacements, monitoring the patient on telemetry and any cardiac drips.
G12 Leukemia - one of the primary leukemia units within the hospital with half the rooms serving as Protective Environment rooms. The patient population frequently includes newly diagnosed patients who are often times are receiving the latest treatment options available, with the protective environment rooms serving patients at high risk for prolonged neutropenia.
G15 Lymphoma and Myeloma - intermediate care level unit with the ability to have up to 24 telemetry patients. Patients are receiving high-dose, multi-agent chemotherapy for four to six days. Many are receiving multiple blood products, anti-fungals, antibiotics and anti-virals.
G16 Leukemia - intermediate care, telemetry unit caring for patients ages 18-95. Patients receive chemotherapy for all types of Leukemia. Other treatments include front line protocols for investigational chemotherapy.
G17 and G18 Stem Cell Transplant – these units are the largest of their kind in the country. Nurses are responsible for the primary care of the SCT patients including the administration of the preparative chemotherapy regimens, infusion of stem cell transplants and administration of supportive intravenous and blood product therapies during the engraftment period.
ESSENTIAL JOB FUNCTIONS
Accountable for the management and provision of patient care in assigned area. Assesses patient's needs for nursing care and multidisciplinary team. Collaborates with physicians, other services, patient and patient's family to plan care and evaluate outcomes.
Improves practice by integrating results and theories of research studies. Participates in data collection for current studies.
Demonstrates clinical competency and compassion in providing care, using technology, administering medications, performing procedures and managing emergencies.
Documents care according to established standards.
Accesses, inputs and retrieves information from computer systems.
Assures continuity of care through appropriate discharge planning, patient education and coordination of services.
Acts as a patient and family advocate in order to uphold patient rights.
Trains, coaches and assists team members to ensure optimum patient care and efficient use of resources.
EDUCATION
Required: Graduation from an accredited school of professional nursing.
Preferred: Bachelor's of Science in Nursing.
EXPERIENCE
Required: None.
Preferred: Two years relevant clinical nursing experience.
LICENSURE/CERTIFICATION
Required: Current State of Texas Professional Nursing license (RN).
Preferred: Certification in oncology or specialty practice area.
WORK CONDITIONS
Patient care environment.
It is the policy of The University of Texas MD Anderson Cancer Center to provide equal employment opportunity without regard to race, color, religion, age, national origin, sex, gender, sexual orientation, gender identity/expression, disability, protected veteran status, genetic information, or any other basis protected by institutional policy or by federal, state or local laws unless such distinction is required by law. http://www.mdanderson.org/about-us/legal-and-policy/legal-statements/eeo-affirmative-action.html
Additional Information
Employee Status: Regular

Minimum Salary: US Dollar (USD) 56,000

Midpoint Salary: US Dollar (USD) 78,500

Maximum Salary : US Dollar (USD) 110,000