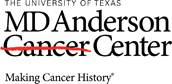 Job Information
MD Anderson Cancer Center

Clinical Data Specialist - Investigational Cancer Therapeutics

in

Houston

,

Texas
The mission of The University of Texas M. D. Anderson Cancer Center is to eliminate cancer in Texas , the nation, and the world through outstanding programs that integrate patient care, research and prevention, and through education for undergraduate and graduate students, trainees, professionals, employees and the public.
The primary purpose of the Clinical Data Specialist position is to review, abstract, and validate clinical information of care rendered to protocol patients. Provides administrative and patient care services for the coordination of research studies. Impacts research by collecting information for each episode of care and facilitating and tracking of research sample information.
Key Functions
To assist with patient-related activities.
2.
Assist with tracking of clinic, CTRC, and inpatient activity and workloads of midlevel providers.

Work with patients to coordinate appointment schedules.

Provide the patient flowsheets for inpatient admissions to the inpatient midlevel team on a daily basis.

Coordinate screening of patients for multiple trials and update clinic screening lists.

Perform EKGs with sponsor-provided machines and transmit results as directed.

Assist with oversight for research specimen collection, documentation, and storage by acting as liaison between personnel in the CTRC lab, the department core lab, and the department.

Act as point of contact for receipt of kits containing research sample collection supplies from all sponsors.
Document receipt of supplies.

Ensure delivery to CTRC lab phlebotomy area.

Facilitate orders for research sample supplies to ensure that ample stock is on hand.

Assist in creation and maintenance of tracking database for samples related to investigator-initiated trials.

Answer and screen office phone calls effectively and professionally.

Triage patient calls to the research nursing area.

Relay immediately important patient messages to research nurses and other clinical research personnel.

Complete requests for printing of chemotherapy orders and special laboratory slips for all protocols accurately and in a timely fashion.

Pick up special blood or tissue specimens correctly and in a timely fashion and transport to appropriate locations, as specified by protocols.

Prepare tissue specimens correctly, as specified by protocols.

Assist in the preparation of scheduled status reports describing interim data, using the Patient Data Management System.
To transfer patient information into the electronic database and case books.
Review medical records to extract data points.

Assist with data entry into database and casebooks.

Make survival calls and appropriately record the data.

Maintain accurate and up-to-date patient flowsheet, to include entry of toxicities, adverse events, follow-up visits, dose modifications, and any other protocol-required data.
To maintain a high level of professional expertise and credibility through educational programs, including on-site training and off-site conferences.
Attend department research meetings and conferences.

Attend approved off-site meetings and conferences.

Supplement education as needed through use of reference materials, lectures, etc.

Be punctual in arriving at all professional functions.

Inform appropriate staff and arrange coverage for necessary functions when absent.
Other duties as assigned.
Working Conditions
This position requires:
Working in Office Environment
No
X
Yes
Working in Patient Care Unit (e.g. Nursing unit; outpatient clinic)
No
X
Yes
Exposure to human/animal blood, body fluids, or tissues
No
X
Yes
Exposure to harmful chemicals
X
No
Yes
Exposure to radiation
X
No
Yes
Exposure to animals
X
No
Yes
Physical Demands
Indicate the time required to do each of the following physical demands:
Time Spent
Never
0%
Occasionally
1-33%
Frequently
34-66%
Continuously
67-100%
Standing
X
Walking
X
Sitting
X
Reaching
X
Lifting/Carrying
Up to 10 lbs
X
10lbs to 50 lbs
X
More than 50 lbs
X
Pushing/Pulling
Up to 10 lbs
X
10lbs to 50 lbs
X
More than 50 lbs
X
Use computer/keyboard
X
Education
Required: High school diploma or equivalent.
Preferred: Some college with specific training in medical terminology, anatomy and physiology, and coding classification systems.
Experience
Required: One year of related experience in medical services.
It is the policy of The University of Texas MD Anderson Cancer Center to provide equal employment opportunity without regard to race, color, religion, age, national origin, sex, gender, sexual orientation, gender identity/expression, disability, protected veteran status, genetic information, or any other basis protected by institutional policy or by federal, state or local laws unless such distinction is required by law. http://www.mdanderson.org/about-us/legal-and-policy/legal-statements/eeo-affirmative-action.html
Additional Information
Requisition ID: 139718

Employment Status: Full-Time

Employee Status: Regular

FLSA: non-exempt, eligible for overtime, and is subject to the provisions of the Fair Labor Standards Act (FLSA)

Work Week: Days

Fund Type: Soft

Pivotal Position: No

Minimum Salary: US Dollar (USD) 38,400

Midpoint Salary: US Dollar (USD) 48,000

Maximum Salary : US Dollar (USD) 57,600

Science Jobs: No