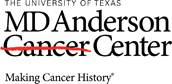 Job Information
MD Anderson Cancer Center

Biologics Quality Assurance Senior Manager

in

Houston

,

Texas
The mission of The University of Texas M. D. Anderson Cancer Center is to eliminate cancer in Texas, the nation, and the world through outstanding programs that integrate patient care, research and prevention, and through education for undergraduate and graduate students, trainees, professionals, employees and the public.
Therapeutics Discovery and Development
MD Anderson Cancer Center (MDACC), the largest research-based Cancer Center in the nation, is taking a unique approach in the battle against cancer. It is well-known that MDACC is home to an esteemed academic faculty that cover all aspects of cancer research, publish prolifically in leading journals and present extensively at all major conferences. In addition MD Anderson boasts a vast oncology clinic that runs more clinical trials than any other institution and has created unparalleled capabilities is cell therapy trials. In between the basic science and the translation, MDACC has created a powerful engine driving the future of new targeted, immune- and cell-based therapies: The Therapeutics Discovery and Development (TDD) Division. TDD eliminates the bottlenecks that hamper traditional drug discovery, with a multidisciplinary team of dedicated researchers, doctors, drug developers and scientific experts working together to develop small-molecule drugs, biologics and cellular therapies. Our unique structure and collaborative approach allows the team to work with agility, bringing novel medicines from concept to clinic quickly and efficiently – all under the same roof.
Biologics Product Development
Biologics, be it monoclonal antibodies (mAbs) or cell therapies are complex therapeutics that are revolutionizing the treatment of cancer and yet are difficult to robustly develop and manufacture. To unlock the potential of these modalities MDACC is investing in Biologics Development capabilities within TDD accelerate the results we have already achieved, with multiple programs currently in clinical development. The goal will be to develop industrial biologics with a commercial horizon within the innovative environment of an academic cancer center. The group will be a composite of industry veterans who are interested in applying their experience to develop innovative therapeutics and see them impact patients, as well as academics looking to turn science into products. We work in a fast-paced, milestone-driven environment with a focus on team science and interdisciplinary research. Our unique approach has created a biotech-like engine within the walls of the nation's leading cancer center to bring life-saving medicines to our patients more quickly and effectively.
BIOLOGICS QUALITY ASSURANCE SENIOR MANAGER
The Quality Assurance Sr. Manager will play a leading role in creating a comprehensive Quality system that blends rigorous compliance with phase-based flexibility to enhance the organization's ability to develop a broad portfolio of cell therapy products. This individual will work closely with other Area Leads to develop robust control systems for multi product cell therapy and viral vector manufacturing. This position will be responsible for the implementation and execution of quality systems including but not limited to, the implementation of policies, practices, procedures, standards, and systems necessary to ensure the compliance of site operations to GMP regulations. This individual will be a key champion for quality principles and compliance and will be a member of the quality leadership team.
RESPONSIBILITIES
•Drive quality as a core value and foster a culture of continuous quality improvement across the organization.
•Develop and implement GMP and GTP compliant and phase appropropriate approaches for cell therapy and viral vector manufacturing.
•Achieve constant state of compliance for all manufacturing activities.
•Enable compliance with quality standards and regulations; proactively identify compliance issues/risks, within the organization and with external partners, and regularly report to management on compliance activities and findings.
•Ensure established quality systems and organization policies continuously meet industry standards and regulatory expectations.
•Provide guidance in interpreting quality standards, regulations, guidelines and internal procedures to assure continued compliance.
•Supports oversight of the QA compliance program and infrastructure, including SOP development/maintenance, document control/change control processes, supplier qualification, internal/external audits, deviation review and tracking, investigations, and corrective and preventative action.
•Provide direction and is accountable for ensuring policies, procedures, and standards are consistently followed and adhered to.
•Make recommendations for changes to policies, procedures and standards as appropriate to ensure the highest quality standards are maintained
•Ensure Deviations, Change Controls, CAPAs, and regulatory commitments are met and that the level of quality is maintained. May include independent investigation to resolve quality issues including recommendations to senior management for corrective and preventative actions to address issues effectively.
•Oversee Quality for GMP manufacturing activities including: collaboration with manufacturing team to ensure full compliance of all manufacturing activities, perform batch review and release and oversee GMP testing to assure conformance with protocols, policies and GMP regulations.
•Works with the management team and legal support team to establish contracts and quality agreements covering necessary activities and deliverables of partnered programs.
•Provide direction to other area leaders to ensure a constant state of inspection readiness.
•Assist in leading and hosting compliance audits and inspections (internal and external) and ensures that all audit observations are addressed quickly and completely.
•Provides leadership and direction to a team of quality professionals including hiring, training, coaching and personnel development.
•Establish, monitor and drive key quality performance indicators to align with the organizations goals.
Education
Required: Bachelor's degree in a related field.
Preferred: Master's degree in a related field.
Experience
Required: Eight years of relevant experience to include four years of supervisory or managerial experience. With Master's degree, five years of required experience to include four years of lead or supervisory experience.
Preferred:
•10+ years in a quality role in the biopharmaceutical industry with a minimum of 5 years in a QA managerial role.
•Strong demonstrated knowledge of cGMP/cGTP regulations and guidelines, industry practices, and experience implementing Quality Systems in a regulated environment.
•Demonstrated experience leading qualification and validation of facilities, process and systems.
•Experience working with cell therapy or biological products.
•Experience with initiation of Quality systems including establishing and maintaining supplier qualification program.
•Strong problem solving, risk identification, assessment, evaluation, impact analysis abilities and ability to execute efficient and effective mitigations.
•Strong scientific competence and ability to critically assess technical and compliance risks.
•Demonstrated ability to work as a team player with multi-disciplinary project teams.
•Excellent attention to detail with an ability to perform critical review of various types of documents.
•Must be able to multitask in a fast-paced environment and make balanced decisions related to prioritizing quality as required for manufacturing needs.
It is the policy of The University of Texas MD Anderson Cancer Center to provide equal employment opportunity without regard to race, color, religion, age, national origin, sex, gender, sexual orientation, gender identity/expression, disability, protected veteran status, genetic information, or any other basis protected by institutional policy or by federal, state or local laws unless such distinction is required by law. http://www.mdanderson.org/about-us/legal-and-policy/legal-statements/eeo-affirmative-action.html
Additional Information
Requisition ID: 135727

Employment Status: Full-Time

Employee Status: Regular

FLSA: exempt and not eligible for overtime pay

Work Week: Days

Fund Type: Soft

Pivotal Position: Yes

Minimum Salary: US Dollar (USD) 112,000

Midpoint Salary: US Dollar (USD) 140,000

Maximum Salary : US Dollar (USD) 168,000

Science Jobs: Yes