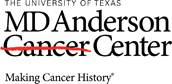 Job Information
MD Anderson Cancer Center

Associate Director, Therapeutics Discovery Projects

in

Houston

,

Texas
Within The University of Texas MD Anderson Cancer Center lies a powerful engine driving the future of new targeted, immune- and cell-based therapies: the Therapeutics Discovery and Development (TDD) Division. TDD eliminates the bottlenecks that hamper traditional drug discovery, with a multidisciplinary team of dedicated researchers, doctors, drug developers and scientific experts working together to develop small-molecule drugs, biologics and cellular therapies. Our unique structure and collaborative approach allow the team to work with agility, bringing novel medicines from concept to clinic quickly and efficiently - all under the same roof.
The Therapeutics Discovery Division is built around four platforms: The Institute for Applied Cancer Science (IACS), ORBIT (Oncology Research for Biologics and Immunotherapy Translation), TRACTION (Translational Research to Advance Therapeutics and Innovation in Oncology) and the Neurodegeneration Consortium.
The IACS platform is focused on discovering and developing the next generation of small-molecule targeted therapies, driven by the needs we see in our patients. The team aligns world-class drug discovery and development research with the science and clinical care for which MD Anderson is known. We work in a fast-paced, milestone-driven environment with a focus on team science and interdisciplinary research. Our unique approach has created a biotech-like engine within the walls of the nation's leading cancer center to bring life-saving medicines to our patients more quickly and effectively. This model already has achieved results, with multiple programs currently in clinical and late-stage preclinical development.
We are seeking a detail-oriented, self-motivated individual for a Associate Director, Therapeutics Discovery Projects for a project management role across the TDD portfolio, including our strategic alliances. The Associate Director, Therapeutics Discovery Projects will play a strategic role managing the cross-functional teams as they bring innovative medicine to patients. The individual will work closely with VP of TDD, project team leader(s), and functional area heads and their team members to ensure successful completion of project goals on schedule and within budget. This individual is responsible for enabling the initiation, planning, and management of cross-functional project and, as well as manage the integration between different functional areas.
He/She will be a core member on the TDD portfolio management team that sets strategy and delivers transformative medicines to patients faster and more effectively, reporting to the Vice-President for TDD. Through project management, this individual will assist TDD leadership in prioritizing resources across the portfolio.
He/She will be responsible for partnering with TDD senior leadership and project leaders around project strategy, planning and execution with tasks including: designing project plans and timelines; facilitating project team meetings; tracking action items, delivery on objectives, and resource utilization in reporting systems; and provide proactive operational oversight for all aspects of the IACS small molecules. He/She is expected to actively contribute and help the teams to effectively and efficiently deliver on project goals on schedule and within budget.
Essential Functions:
Support TDD leadership and project teams in project and portfolio management for all projects overseen by R&D portfolio management team.
• Track progress of activities and deliverables, manage key program deliverables, identify program risks and mitigation strategies, and anticipate potential issues.
• Assists in the management of TDD portfolio by providing cross-functional, cross-project objective, milestone and resource analysis. Develop, maintain, pro-actively track & manage project milestones and deliverables (employing tools such as Gantt charts, flow charts, and trackers). Ensures consistency of project planning across the TDD portfolio.
• Work with a variety of different stakeholders help gain alignment, synthesize information, and bring info together into cohesive plan.
Support project teams in project planning, defining objectives and milestones, and tracking progress, utilizing project management tools to enable high-performing cross-functional teams.
• Communicate project status and progress to senior management, team members, and functional heads using appropriate tools. Track all program objectives, action items, timelines and target dates utilizing project management tools and software, to enable accurate project/portfolio analyses and decision making by TDD senior leadership and portfolio management team.
• In collaboration with project leader, manage and operationally lead cross-functional drug development project teams and sub-teams as assigned. Track progress and review project tasks to make certain deadlines are met appropriately. Responsible for communicating changes to the approved plan to leadership.
• Assemble cross-functional Gantt charts including specific resource allocation (person(s) responsible) for assigned programs.
• Closely and transparently manage the critical path activities of projects in the TDD portfolio
Facilitate project and core team meetings, cross-functional communication and decision making, ensuring alignment between project teams, functional areas, internal and external stakeholders, and TDD leadership, including the preparation of meeting agendas, minutes, and follows up on action items.
• Review project plans with team members on a regular basis to update, provide reminders, identify critical path items, develop action plans to solve critical issues, and elevate specific concerns to senior management.
• Ensures alignment within project teams, between project teams and functional units, and with relevant governance bodies, and that team conflicts are resolved in a professional and timely manner. Works with project teams to prepare project updates for governance meetings and clearly communicates status in written documents and presentations. Communicates, documents and archives project team activities, risks, milestones, deliverables and decisions.
• Work with Strategic Industry Ventures to develop project plans and Gantt for partnered projects, and liaise with their counterparts in BioPharma to ensure successful execution of collaborative projects.
• Partner with TDD finance and leadership to ensure resources/budgets are planned, tracked, and managed. This may include tracking resources and expenses for internal and partnered programs.
• Identify program-related risks and work with teams to develop mitigation plans.
• Identify, recommend and implement opportunities for streamlining team and business processes.
• Deliver consistent and high quality project management services to enable team and project success.
Education
Required: Master's degree in one of the natural sciences or related field.
Experience
Required: Seven years of relevant experience in a pharmaceutical or research & development environment to include two years of supervisory or management experience. With preferred degree, five years of relevant experience in a pharmaceutical or research & development environment to include two years of supervisory or management experience. Successful completion of the LEADing Self Accelerate program may substitute for one year of required supervisory or management experience
Preferred:
• Demonstrated project management skills; must have high degree of energy, accuracy and attention to detail.
• Strategic and analytical thinking skills to assimilate complex information to inform decisions.
• Strong understanding of portfolio management concepts.
• Strong proficiency with project management practices, tools, and methodology.
• Excellent communication and interpersonal skills, with the ability to influence teams to get things done without formal authority.
• Proven ability to build productive internal/external working relationships with cross-functional teams and key stakeholders, and ability to influence to ensure team performance.
• Ability to integrate and influence cross-functional issues, balance competing priorities effectively, and successfully negotiate desired outcomes
• Excellent analytical skills, and ability to translate strategy into action plans.
• Excellent written and verbal English communication skills.
• Proven track record of good decision making and exercising sound judgment.
• Embraces working in a culture where receiving and providing feedback is valued.
• Self-directed, process oriented and able to work well in a team environment.
• Thorough understanding of the drug development processes is preferred.
It is the policy of The University of Texas MD Anderson Cancer Center to provide equal employment opportunity without regard to race, color, religion, age, national origin, sex, gender, sexual orientation, gender identity/expression, disability, protected veteran status, genetic information, or any other basis protected by institutional policy or by federal, state or local laws unless such distinction is required by law. http://www.mdanderson.org/about-us/legal-and-policy/legal-statements/eeo-affirmative-action.html
Additional Information
Requisition ID: 139852

Employment Status: Full-Time

Employee Status: Regular

FLSA: exempt and not eligible for overtime pay

Work Week: Days

Fund Type: Soft

Pivotal Position: Yes

Minimum Salary: US Dollar (USD) 148,500

Midpoint Salary: US Dollar (USD) 187,750

Maximum Salary : US Dollar (USD) 223,000

Science Jobs: Yes