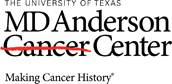 As one of the world's most respected cancer treatment centers, we know the value of perseverance, loyalty and a steadfast allegiance to serving the greater good-much like those who choose to serve in our country's military.
At MD Anderson, we have great respect and admiration for veterans and reservists. That's why we're committed to welcoming those who have faithfully served by offering resources to help align your unique skills and aspirations with career opportunities at MD Anderson. Join us in Making Cancer History®. These include:
Targeted employment counseling to help veterans like you successfully shift from military to civilian careers. We'll help guide you through the application and hiring processes, while answering your questions and providing advice along the way.
An online career tool to help translate your military experience to relevant positions at MD Anderson. We value your contributions and want you to join our team. So if you're ready for your next challenge and ready to fight cancer with everything you've got, we invite you to join us. Use the military translator below to help identify positions that may be a match to your skills and interest.
Results, order, filter
CT Technologist Jobs
Current Search Criteria
Sorted by
Relevance
Filter by
Military Titles
More
Less